When my in-laws sent a few pictures over from their trip to Canada, my first thought was the background looked fake. The snow-sprinkled mountains glistened and were only enhanced with the surreal blue water in front of them. It was like an unrealistic filtered backdrop on a green screen.
Come to find out, visitors are spoiled with options of beautiful scenery all over the area. In addition to "established in 1885," Wikipedia should also say, "where the hashtag, no filter, originated from." If you are heading to Canada's second oldest national park to see for yourself, here are some of the best hikes in Banff.
Start planning your adventure here!
Banff Hiking Tips & Gear
Wear a sturdy pair of shoes. If you prefer hiking shoes make sure they are durable and breathable. We like these men's waterproof hiking shoes and these women's breathable hiking shoes. Or you can always go with an ankle-high boot, check out these cute boots for women or these slick ones for men.
Bring a good day pack to carry your necessities.
Remember you are in bear country! Be Safe:

Stay at least 100 yards or more away from bears and any other wild animals.
Try hiking with at least two people and always make sure you are heard while walking. Play music, sing, talk, clap your hands or attach a bear bell to your pack.
Carry bear spray, but remember you cannot fly with it so if you are arriving by plane purchase this AFTER you land.

Bring snacks for short hikes and lunch for any long ones.
Download Banff National Park by Chimani. It is a free app with trail guides, including GPS-enabled maps that can be used offline.
Stay hydrated. Always bring more water than you think you need. Limit waste by bringing along reusable water bottles.
Wear a hat and/or sunglasses.
Apply sunscreen to prevent sunburn.
Leave No Trace: Stay on the trails and always pack it in and pack it out.
The Banff Red Chairs – A Fun Challenge
There are numerous red chairs placed throughout the park. Some locations are more difficult to get to, while others are quite easy.
Either way, it's a fun challenge to complete. Make sure to take a picture once you reach them and use #ShareTheChair on social media.
Lake Minnewanka Picnic Area (see below)
Sulphur Mountain Hike Summit (in the town of Banff)
Valleyview Picnic Area (Banff Legacy Trail or Hwy 1 eastbound)
Cascade Ponds Picnic Area (Lake Minnewanaka Road)
Two Jack Lake Picnic Area (Lake Minnewanka Road)
Tunnel Mountain Summit (see below)
Cave and Basin National Historic Site (Town of Banff)
Hoodoos Viewpoint (see below)
Muleshoe Picnic Area (Bow Valley Parkway 1A)
Silverhorn Creek Campground (Icefields Parkway 93N)
Glacier Lake Trail (Icefields Parkway 93N)
Not all of our favorite hikes have red chairs so if you are limited on time, and or looking for the best hikes in Banff continue reading below for pictures and detailed information.
Disclaimer: This post contains affiliate links, if you book through our link we will receive a small commission at no additional cost to you. Thanks for supporting the blog!

Banff Trail Map
HOW TO USE THIS BANFF TRAIL MAP: To view the layers and see the names of the places on this map, click the tab in the top left corner. You can select the check marks to show or hide certain layers. If you select the icons on the map, you will get more information about the point of interest.

HOW TO SAVE THIS BANFF TRAIL MAP: If you select the star icon, you can save this map to your Google Maps account. To view it, open Google Maps in desktop or on your phone, select the menu button, go to "Your Places," scroll to the right to Maps, and you will see this map.
1. Plain of Six Glaciers Hike to Lake Agnes
Elevation Gain: 2,210 Feet
Distance: 7.5 miles round-trip
Difficulty: Moderate to Strenuous
Time: 5 – 6 hours
The Plain of Six Glaciers trail loop with Lake Agnes has it all: clear lakes, rugged peaks, dramatic glaciers, and historic tea houses. Your afternoon will start with an easy stroll beside Lake Louise, but you will then ascend into the valley of a glacier giving you amazing views of the lake behind you and the impressive rocky peaks ahead.
Continue on to three unique stops: two historic teahouses and a secret lake. Get more details here on the Six Glaciers Trail, one of the best hikes in Banff.
And if you don't want a full afternoon hike, you have the option to split these up and hike them each separately.
TIP: Bring cash if you plan to eat or drink at either of the tea houses.
2. Parker Ridge Hike
Elevation Gain: 900 feet
Distance: 3.2-miles round-trip
Difficulty: Moderate
Time: 2 – 3 hours
A relatively short hike, but with spectacular views. The Parker Ridge trail is steep but totally worth the effort.
After a series of switchbacks, you reach the alpine meadow where you are rewarded with lush vegetation and colorful flowers. Then, the top of the ridge delivers an incredible lookout of an ice-capped mountain range and the spectacular Saskatchewan Glacier.
TIP: Wear layers and maybe even a raincoat, it is cold at the top no matter what time of year you go!
RELATED: BEST HIKES IN JASPER NATIONAL PARK
3. Lake Minnewanka Hike
Elevation Gain: 0 feet
Distance: Varies, 20 miles round-trip
Difficulty: Easy
Time: Varies
Found in the eastern section of Banff National Park, Lake Minnewanka is the second longest lake in the Canadian Rockies. And lucky for us, you can walk beside the pristine glacial water on a 10-mile trail.
It's an easy stroll with not much elevation gain so you can make the hike as long as you'd like. The further you walk, the less crowded the trail gets.
TIP: Bikes and dogs are not allowed on the trail during the summer months of mid-July to August due to increased bear activity. Check with the park for more information and don't forget your bear spray.
RELATED: GLACIER NATIONAL PARK TRAVEL GUIDE
4. Johnston Canyon
Elevation Gain: 400 feet
Distance: 4 miles round-trip
Difficulty: Easy
Time: 2 – 2 1/2 hours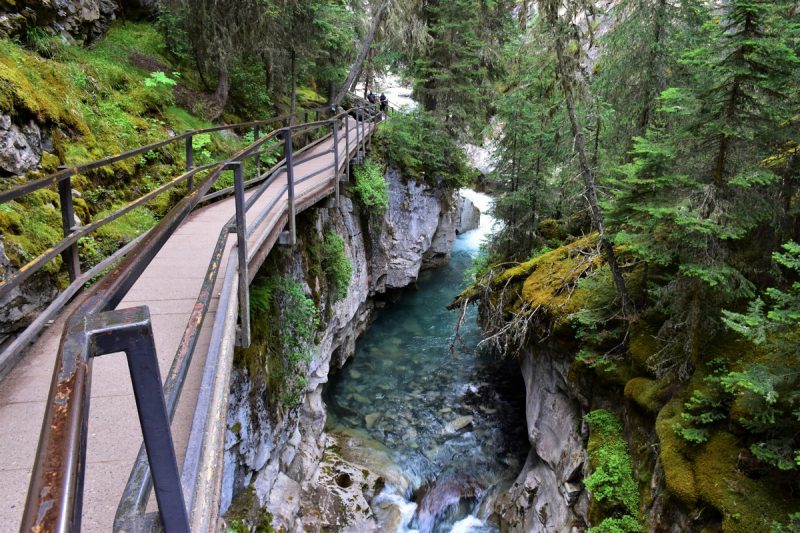 A series of catwalks suspended in air winds you through a scenic canyon with bright blue water. The first stop is only .7 miles along the trail where you'll squat through a small cave to the cascading Lower Falls.
From this section, you continue upward enjoying the green moss decorating the rock wall as the crystal clear water rushes underneath. Once you reach the Upper Falls, there are two viewpoints to take in the scenic 100-foot fall. No wonder it is considered one of the best hikes in Banff.
TIP: Go either early in the morning or late in the day to avoid crowds and the possibility for some solitude.
READ NEXT: BEST WINTER HIKES IN BANFF
4. Tunnel Mountain Hike
Elevation Gain: 950 feet
Distance: 2.7 miles round-trip
Difficulty: Easy
Time: 2 – 3 hours
The Tunnel Mountain hike is a classic; it has been a longtime favorite among visitors and locals alike. It's a great one to do when you first arrive in the area.
The trail begins with a few long switchbacks that gradually climb a mountainside. At the peak, you'll be able to see fantastic views of the town of Banff and the Bow Valley. It's a good option for sunrise or sunset.
TIP: If you'd like to shorten the walk, begin it from Tunnel Mountain Drive versus downtown Banff.
RELATED: TOP 10 EXPERIENCES IN BANFF
6. Bow Summit
Elevation Gain: 750 feet
Distance: 3.6 miles round-trip
Difficulty: Moderate
Time: 2 hours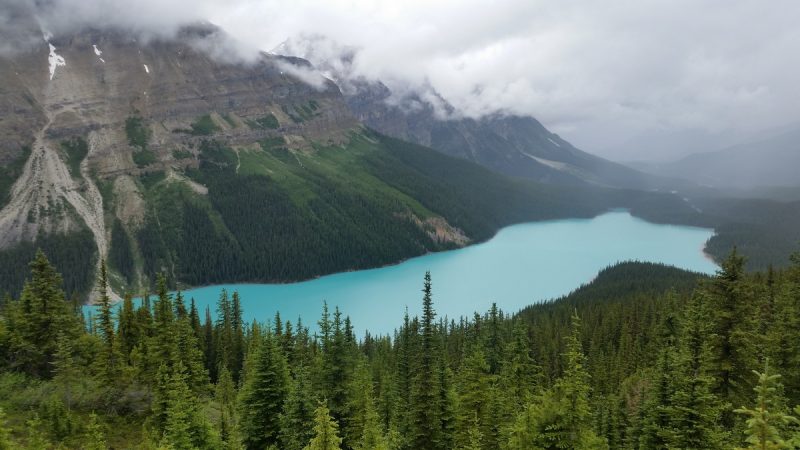 The jaw-dropping view of Peyto Lake is seen from Bow Summit, the highest point on the Icefields Parkway. If you only have time to stop at one place on the scenic drive, take your break here.
Sure you can see the brilliant lake from one of the platforms with hoards of other tourists, but to get off the beaten path keep going. The crowds will thin out as you leave the pavement and hit the dirt for a more secluded breathtaking viewpoint standing 6,840 feet above the valley.
Tip: Even if it's a warm day, take a sweater or jacket because of the high elevation it's usually cool up there.
7. Hoodoo Trail
Elevation Gain: 200 feet
Distance: 4.5 miles round-trip
Difficulty: Easy
Time: 1.5 – 2 hours
Hoodoo voodoo what now?
A "hoodoo" is the name given to the uniquely shaped rock pillars created thousands of years ago that protrude from the ground. They are nature's version of odd roadside attractions.
Begin the hike at the southern entrance at Surprise Corner. It's a relaxed stroll in a forested area with a few steep areas, follow the single-track trail alongside the meandering Bow River.
TIP: The hoodoos are located on the north end of the trail which can be accessed from Tunnel Road if you don't have time to hike but still would like to see them.
Have you been? What do you think are the best hikes in Banff? Tell us in the comments below.
Please Pin for Later!