How much does it cost to visit Thailand?
Thailand has been the talk of the nomad world for some time now. But in the year 2000, Leonardo DiCaprio's movie, The Beach, really catapulted the country into the limelight. You'd think with magical beaches, delicious food, and exotic cities, the country would be an expensive destination.
Yet one of the main reasons it is a popular spot for retirees, digital nomads, and backpackers is the inexpensive living costs.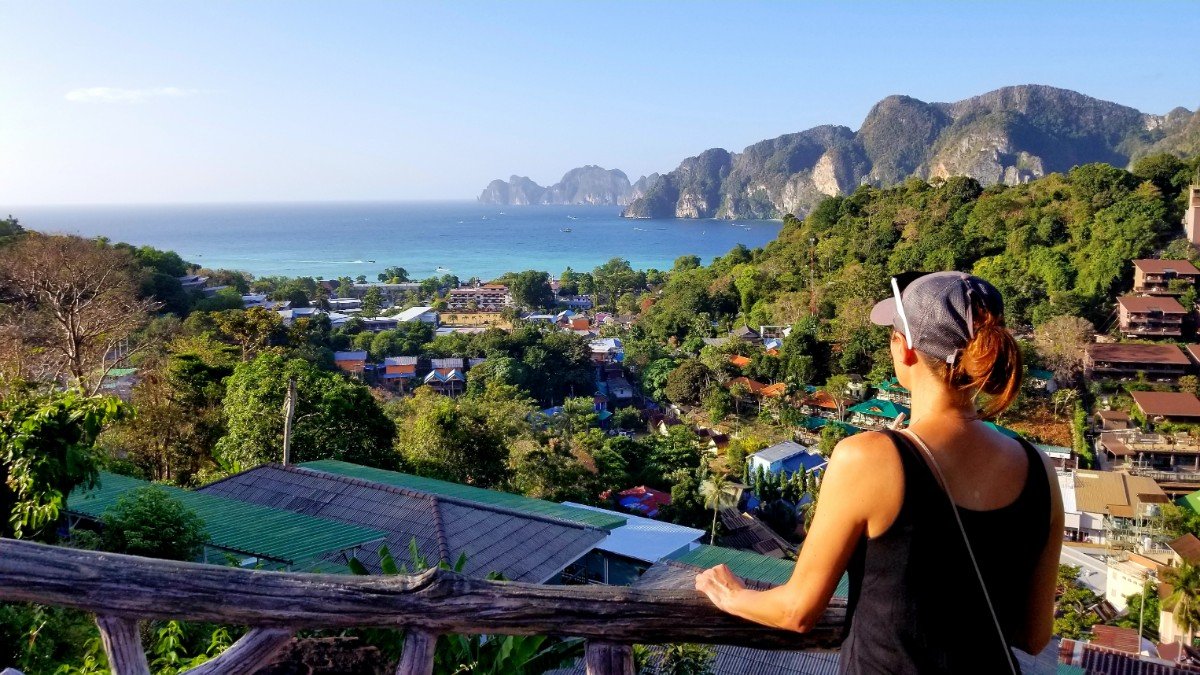 With the promises of sweet digs and delicious food, all on a low-cost budget, my husband was hooked. It has been the topic of discussion for about seven or eight years now.
It was finally time to make it happen.
We spent weeks doing research on how long to plan our trip for, what we wanted to see, where to go and how long for each stop. Research also included what scams to avoid, the best way to get around, and what types of things we needed to pack versus items to buy once we arrive.
Being our first time in Asia, we wanted to make sure we prepared accordingly.
Thailand Itinerary
We spent 56 nights in Thailand
11 in Bangkok
1 on an Overnight Train
11 in Chiang Mai
6 in Karon Beach, Phuket
6 in Phi Phi
7 in Koh Lanta
4 in Railay Beach
10 in Ao Nang
It was difficult to narrow down our itinerary since there are so many amazing things to do in Thailand, but we think for a first-time visit, this itinerary worked great.
Thailand Trip Cost
We just got back from our trip and want to share how much we spent so you can plan your trip accordingly. Click here to check out the Bangkok travel journal I kept during our time in the city.
Since Thailand has grown in popularity, we found the average cost has increased to reflect the added tourism but overall, is still a reasonably cheap destination.
And the best part is, with so many lodging options from hostels to five-star hotels, you can make it as cheap or expensive as you can afford.
First, we will break down our two-month trip and then will extrapolate those numbers into a week, two week, and month-long stays for you.
So how much does it cost to go to Thailand? Let's break it down!
Do Us a Favor & Save for Later!
60 Day Thailand Visa
If you are only traveling throughout Thailand for 30 days or less, most tourists do not need a visa including Americans. And even if you want to stay for an extended period over 30 days, there are options to avoid paying for one by taking visa runs.
To keep things simple, we applied for a 60-day tourist visa and the process was straightforward. You can apply by mail or in person at the nearest embassy.
We thought we'd avoid having to send our passports through the mail by going down to the embassy in person, but in fact, they take your passport anyway while processing the visa for a few days then mail it back.
If we knew that beforehand, we probably would have just mailed it all in instead of physically going to the embassy in downtown Chicago.
Download application found online here.
Fill out information such as type of visa, date of arrival, duration, passport information, vessel or flight number, and proposed address in Thailand.
Provide two 2 x 2 photographs taken within the last six months, copy of bank statement to prove you have enough money to return, copy of flight itinerary and current passport.
Money order for $40 per person.
Travel Insurance
Fortunately, our health insurance covers us while traveling overseas but we understand that is not the case for most people.
Travel insurance is extremely important especially when traveling far from home. It protects you against injury, theft, illness, and cancellations.
World Nomads is a trusted company used by many travelers.
Coverage includes emergency accident and sickness medical expense, emergency evacuation, non-medical emergency evacuation, trip cancellation, trip interruption, baggage, rental car damage, and accidental death and dismemberment. A little somber we know, but it's better to be safe than sorry, right?
A few things are taken into account: country of residence, how long the trip is, where you are going, type of coverage and your age.
Average Travel Insurance Cost for Two; from the USA; to Thailand; 40 and 43 years old.
For One Week: $140 – $220
For Two Weeks: $156 – $282
For One Month: $232 – $410
For Two Months: $400 – $600
I searched these figures based on our particular situation, go to World Nomads website to get a free quote for your specific trip.
*DISCLAIMER: Some of the links in this post are affiliate links. If you book through any of them, we will receive a commission at no additional cost to you.*
Transportation Costs
Using airline or credit card points to book plane tickets is a huge savings when traveling.
We used points for this trip from our favorite Chase travel credit card which also gives us access to airport lounges.
After our full 24-hour travel day with a 3-hour layover, I don't think I ever want to fly without that access!
If we purchased our flight round-trip tickets from Chicago to Bangkok on Korean Air, it would have been $649.32 for one and $1,298.64 for both of us.
The two different expense breakdowns below will include and exclude the tickets so you can see the difference.
Other transportation includes an overnight train ride from Bangkok to Chiang Mai, airfare within the country once we got there, and ground transportation.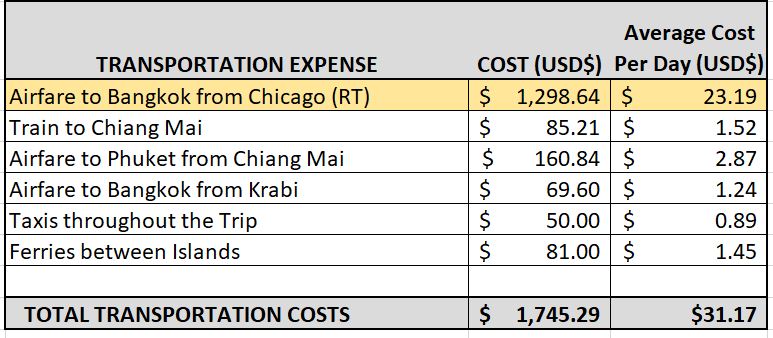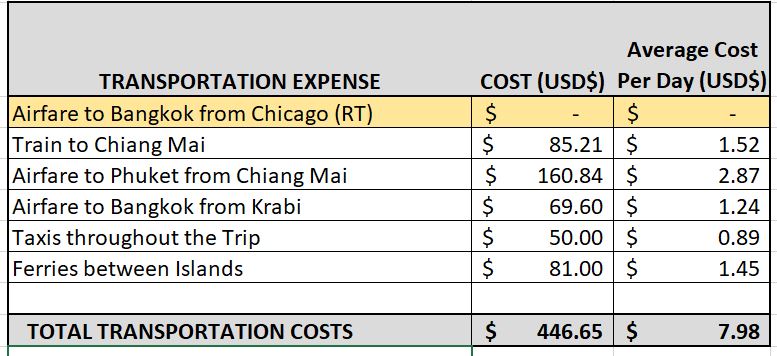 Lodging Costs
With lodging, we booked budget-friendly hotels and bungalows averaging around $50 per day. It totaled to $2,779.62, so not necessarily "cheap" places considering there are hostels available everywhere at $7 – $10 a bed.
Again, it all depends on the quality of trip you are looking for.
Hotels in Thailand

Food, Alcohol, Massages, Excursions and Temples
In total, we spent $1,920 on the everyday items like food, alcohol, massages, boat trips, temple admissions and museum visits which averages out to $34 per day for the both of us.
Food and Alcohol
The best thing about traveling through Thailand is the delicious and ultra cheap food options.
Although I was surprised to find that restaurant menus were not as cheap as I expected. Alcohol either since it is taxed heavily.
It's comparable to fast food versus sit-down restaurants so it makes sense, but for some reason I don't remember reading that before our trip.
Still, eating out in Thailand is overall way inexpensive compared to back home in the United States. And we ate out the majority of the time.
Street food ranges from $1 – $3 per meal, the most expensive being in the more touristy beach areas like Phuket.
Thai restaurant food ranges from $3 – $6 per meal.
Western food is the most expensive at around $6 – $11 per meal.
Not that I planned on eating burgers and pizza in Thailand necessarily, but eating the same Thai dishes over and over gets a little monotonous week after week.
The hubby had no issues at all with it, but at around week six I was looking to mix things up.
A small domestic beer like Chang or Leo runs $2 – $3, a large $3 – $4.
A glass of wine $3 – $5, a bottle at the store $20 – $30.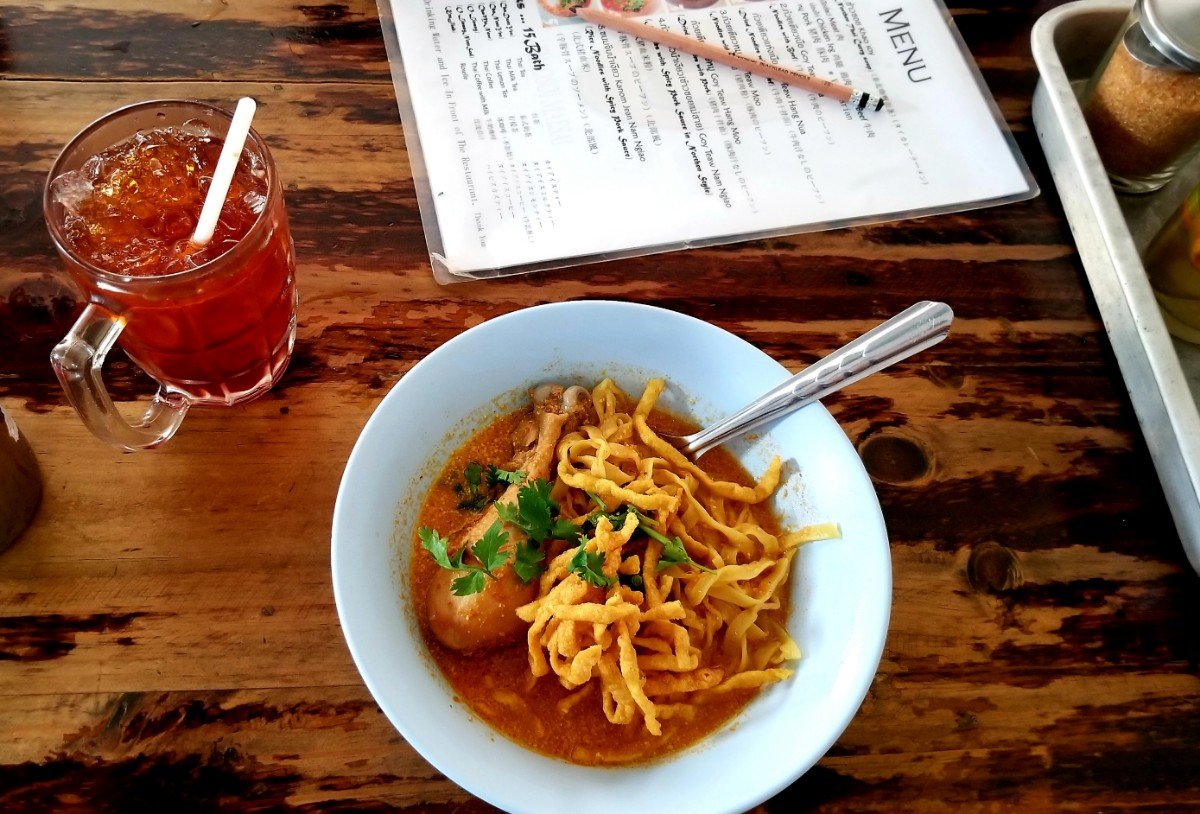 Massages
In the beginning in Bangkok and Chiang Mai, we were getting massages every couple of days. They ranged from $10 – $13 each for an hour long massage.
But once the hubby had a bad experience with a twinge in his neck, he stopped going with me. Then we headed south where the beaches were calming on their own, so I stopped going. We spent roughly $150 between the both of us during the whole trip.
Excursions, Museums and Temples
If you plan a trip to Thailand, do not skimp on the excursions. My most memorable days came from these outings including one of my favorite excursions, a visit to an ethical Elephant Sanctuary (CLICK HERE TO SEE THE VIDEO).
Our final category is lumped all together. Since almost everything but our Grab taxi's were paid for in cash, it was hard to track our spending but here are our biggest expenses.
Elephant Half Day Encounter in Chiang Mai $48 per person = $96
Cooking Class in Chiang Mai $31 per person = $62
4 Islands Tour in Koh Lanta $20 per person = $40
The Grand Palace in Bangkok $16 per person = $32
Island Snorkel Tour in Phi Phi $14 per person = $28
Scooter Rental in Koh Lanta $7 for a full twenty four hours
Jim Thompson House Tour in Bangkok $6 per person = $12
Floating Market Boat Ride in Bangkok $3 per person = $6
Other temple entrance fees in Bangkok $30
Totals – Is it Cheap to Vacation in Thailand?
If you're asking yourself, how much is an average trip to Thailand, know that the answer largely depends on you.
There are 5 main things that will determine how much your trip will cost.
Timing of your visit. Peak season from November to February is the most expensive.
Type of lodging.
Whether or not you use points to book your flight.
How many excursions you choose to do.
If you will eat street food versus restaurant visits.
All in all, our two-month Thailand trip cost came to $5,226 which averages out to $93 a day for two.
Since we weren't traveling the cheapest or the most expensive, I feel like our trip cost is a good average for the budget-friendly traveler. Everything is relative.
When I think that $5k is what some people spend on a week long trip to Disney, I think we did pretty good! See the two breakdowns below of what we paid and what you might pay if you plan a similar trip.
Now, for turning our numbers into figures for your future trip. Read the 7-day, 14-day, and 1-month breakdowns below.
Thailand Trip Cost for 7 Days
For the example below, we took out the visa because it is not necessary and reduced transportation since it's likely you'll only spend time in one location. The other two categories are based on our daily average cost.
If you are wondering how much money to take to Thailand for 7 days, we suggest around $600 – $800 for lodging and spending, more if you plan to shop for souvenirs. Almost every transaction including most hotels are done with cash.
We recommend using an ATM once you arrive versus exchanging cash there to get the best rate, but only if you have an account like Charles Schwab that has no minimum balance, no foreign transaction fees and reimburses ATM fees.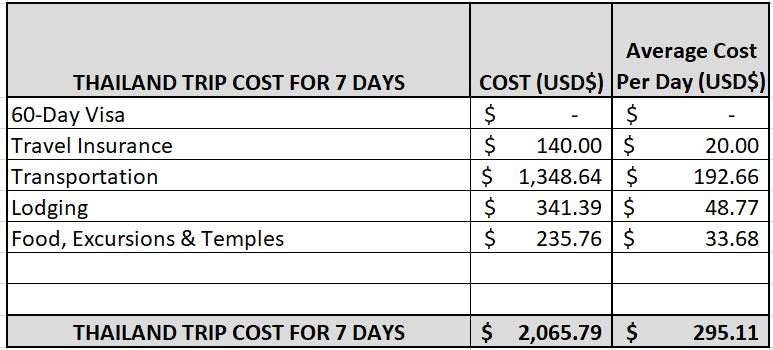 2 Weeks in Thailand Cost
For the example below, we took out the visa because it is not necessary and kept the transportation the same as ours since it's likely you'll bounce around to a few locations. The other two categories are based on our daily average cost.
If you are wondering how much money should I take to Thailand for 2 weeks, we suggest around $1,200 – $1,600 for lodging and spending, more if you plan to shop. Almost every transaction including most hotels are done with cash.
And again, we recommend using an ATM once you arrive versus exchanging cash there to get the best rate, but only if you have an account like Charles Schwab that has no minimum balance, no foreign transaction fees and reimburses ATM fees.
One Month in Thailand
For those you have more time and can plan a month long stay, see the below example based on a 30-day month.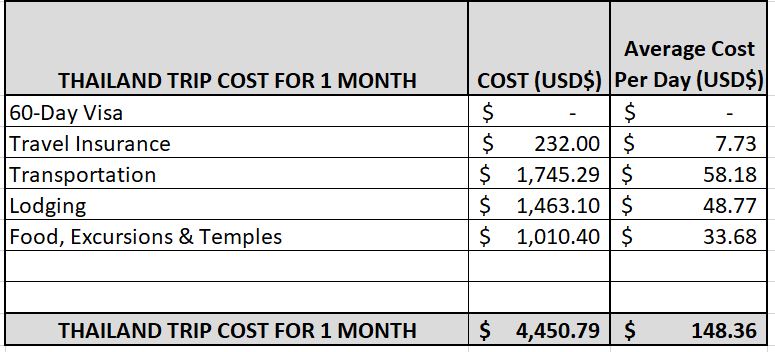 Have any other questions about planning a trip to Thailand? Let us know in the comments below! How much did your Thailand trip cost?
Like it? Pin it!