One of America's oldest cities, Savannah tops the list as a favorite for many, including us. The streets present antebellum homes lined with lavish vegetation at every turn. With charming architecture and squares saturated in beauty, it is a walking town. It's romantic, it's enchanting, and it's a must-experience.
So put your walking shoes on and let's discover the best things to do in Savannah.
To make your first visit memorable, we've put together a list of the best things to do in Savannah!
1. Stroll through Every Historic Square

Savannah is home to 22 perfectly manicured squares, each one unique in its design.
Gigantic live oak trees aging gracefully provide shade to all who saunter below taking in the sights: honorary monuments, lovely homes, elegant gardens, and prominent fountains.
2. See the Cathedral of St. John the Baptist

Religious or not, the 19th-century cathedral should be on your list of things to see while in Savannah.
It is of Victorian Gothic design with stunning stained glass windows and impressive paintings.
Where: 222 E Harris Street

3. Get Down with Some Authentic Southern Cooking

From juicy fried chicken to creamy macaroni and cheese, there are many ways to feed your soul in Savannah.
Make sure to have lunch or dinner at one of the many places serving southern food: Mrs. Wilke's Dining Room, Savannah Fried Chicken, or The Olde Pink House.

4. Visit Bonaventure Cemetery

As morbid as it may be we don't care, a trip to Savannah must include a visit to Bonaventure Cemetery.
If possible, plan your trip around springtime when the azaleas are blooming. Not only is the cemetery rich in history as a former plantation and the final resting place of many local luminaries, but it is also one of America's most beautiful cemeteries.
Where: 330 Bonaventure Road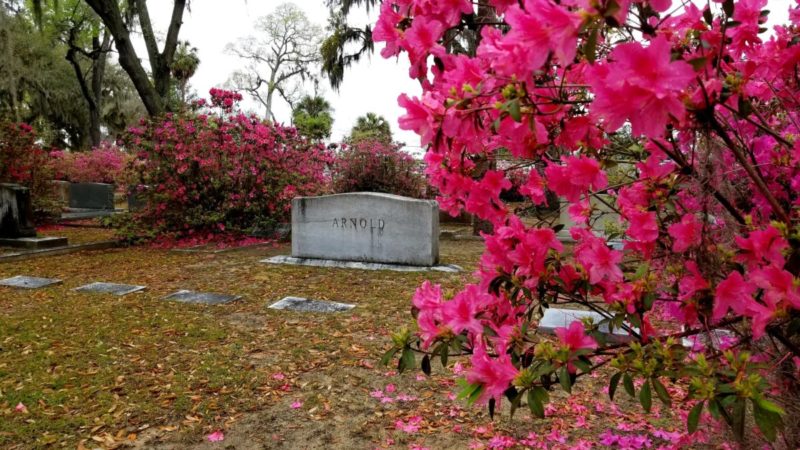 5. Take a Walk along the River with a Drink in Hand

There are only a handful of places in the United States where you can walk around with an open container of alcohol and Savannah joins New Orleans, Memphis, and Kansas City on the list.
Grab a drink from one of the many bars on River Street and soak up the fun of being able to legally do so.
Just stay anywhere from River Street to Jones Street and Martin Luther King Jr. Boulevard to West Broad Street and you are good to go. Cheers!
RELATED: NEW ORLEANS TRAVEL GUIDE
6. Sample Tasty Local Treats

There are two local delights that are synonymous with Savannah: pecan pralines and specialty honey.
Stop in at Savannah's Candy Kitchen and the Savannah Bee Company to sample the scrumptious sweet treats before you decide if they are worthy enough to bring home as a souvenir.
Where: Savannah's Candy Kitchen – 225 East River Street, Savannah Bee Company – 1 West River Street

DO NOT MISS: TEA PLANTATION TOUR
7. Stop by an Infamous Murder Scene
If you were introduced to the idiosyncrasies of Savannah life by the novel, Midnight in the Garden of Good and Evil, like many of us were, then you should stop to see the Mercer Williams House.
The story is based on the real events surrounding the murder of Danny Hansford who was killed in the stylish Italianate mansion.
Where: 429 Bull Street

8. Learn a Thing or Two at a Museum

Interested in the rich past of the city? Head over to the Savannah History Museum where you can start from the beginning in 1733 when Savannah was first founded.
Or maybe you are into art. The Telfair Museum is the oldest public art museum in the South with an extensive collection of 19th and 20th-century American and European work. You'll also find the Bird Girl sculpture recognized from the Midnight in the Garden of Good and Evil book cover.
Where: Savannah History Museum – 303 Martin Luther King Jr Blvd, Telfair Museum – 207 W York Street
READ NEXT: HIDDEN GEM ON THE ATLANTIC COAST
9. Check out Factors Row

Cotton production and exportation were the lifeline of Savannah's elite in the 19th century. Facing the city at the bluff level you'll find Factors Walk and Factors Row, a line of red brick buildings connected with wrought iron walkways home to many businesses and restaurants often overlooked by tourists.
Where: Bay Street
10. Discover an Unforgettable Spectacle at Wormsloe Historic Site

The arched entrance to Wormsloe is a picturesque scene that will haunt your dreams. The avenue is free to walk or drive down, but the museum at the end charges a fee.
Explore the historic site or at least the breathtaking canopy drive of live oak trees, it is definitely worth the short side trip outside of downtown Savannah.
Where: 7601 Skidaway Road

11. Spend the Day at the Beach

The barrier island of Tybee is another short drive from downtown that's worth a visit. Beat the heat and humidity of the south by hitting the beach.
The sand is soft and the water is cool on the Georgia coast. If you like fresh seafood, stop at the very-touristy-yet-very-good Crab Shack on the way on or off the island.
Where: 40 Estill Hammock Road
Get Your Guide is a great company that offers discounted tours and attraction tickets. One of the most unique tours out of Savannah is the Ghosts and Gravestones Tour which is a seventy five minute trolley tour to all the spookiest locations in the city. Did you know Savannah is ranked as one of the most haunted cities in America? If you book through our site, at no additional cost to you, you'll help us support the blog since we receive a small commission.

Other popular tours they offer:
12. Tybee Island Lighthouse

When on Tybee, make sure to visit Georgia's oldest and tallest lighthouse.
If you want a unique experience, join a sunrise or sunset tour for a climb to the top with spectacular views.
Where: 30 Meddin Drive
13. Wander Down Charming Jones Street

Located near the center of the Historic District, Jones Street will have you pulling up Redfin for quotes on your future home.
It is a magical street with major curb appeal lined with beautifully landscaped homes.
14. Relax at Savannah's Most Recognizable Landmark

While making your way through the city, you'll spot many prominent fountains, but the large white one surrounded by swaying Spanish moss at Forsyth Park is one you'll never forget.
Take a walk along the oak tree-lined path to the north end of the park to get the full effect.
Where: Drayton St. & Gaston St.

15. Get a Scoop of Tutti Frutti at Leopold's

After eight decades, Leopold's Ice Cream closed in 1969 but was rebooted in 2004 by the same family with the original equipment.
The old fashioned parlor still whips up its ice cream fresh daily with the family secret recipe and technique. With an almost guaranteed line, it is obviously a popular spot among tourists and locals alike.
Where: 212 E. Broughton Street

16. Pair a Craft Beer with a Ghost Sighting

Moon River Brewing Company has been on shows such as Ghost Hunters and Ghost Adventures for its paranormal activity.
Before the Civil War, the building was a prominent hotel, then a makeshift hospital during numerous yellow fever outbreaks. Hundreds of people died in the building over the years, and it is said their ghosts still walk the halls.
My guess is your chances are slim of a ghost sighting but it's still an amusing possibility.
Where: 21 W. Bay Street
17. Lose the Map and Get Lost

I told you to get your walking shoes on! Put the map or phone away and just walk. One of the most romantic things to do in Savannah GA is to soak in the captivating atmosphere by losing yourself within its charming neighborhoods.
18. See where the Girl Scouts Began

The Juliette Gordon Low Historic District consists of Juliette Gordon Low's birthplace, the first Girl Scout Headquarters and the Andrew Low House and are open for general tours.
Her birthplace was designated as Savannah's first registered National Historic Landmark in 1965 and is a pilgrimage for many girls and women.
Where: 10 E. Oglethorpe Avenue
19. Go on a Ghost Tour or a Haunted Pub Crawl

Often considered one of the most haunted cities in America because it was built on top of a Native American burial ground, ghost tours are popular things to do in Savannah GA at night.
The entire city of Savannah sits directly above the dead. If that's not spooky, I don't know what is. You'll hear stories of women being locked in bathrooms, curdling screams being heard in the streets, and unexplainable paranormal events.
20. Shop and Eat at the City Market

The four-block open air market has been open since the 1700s. It is a pedestrian-only thoroughfare between the Ellis and Franklin Squares.
Shop at the storefronts during the day and dine below the strung up lights at night. If you are looking for a snack, make sure to stop in Byrd's Famous Cookies, open since 1924.
Where: 219 W. Bryan Street

Savannah things to do: How many have you done? Or maybe you have more suggestions? Tell us in the comments below!
Disclaimer: This post contains some affiliate links, if you book through our link we will receive a small commission at no additional cost to you. Thanks for supporting the blog!
Like it? Please pin it!