Updated 2018
Let me set the scene of America's unspoiled jewel: An uninhabited island with unparalleled natural beauty, pristine beaches, untouched dense forests exploding with gnarled trees draped in Spanish moss, free-roaming wild horses and abandoned mansions lingering with hints of affluence and extravagance.
Welcome to Cumberland Island.
A retreat frozen in time where history meets mystique and nature.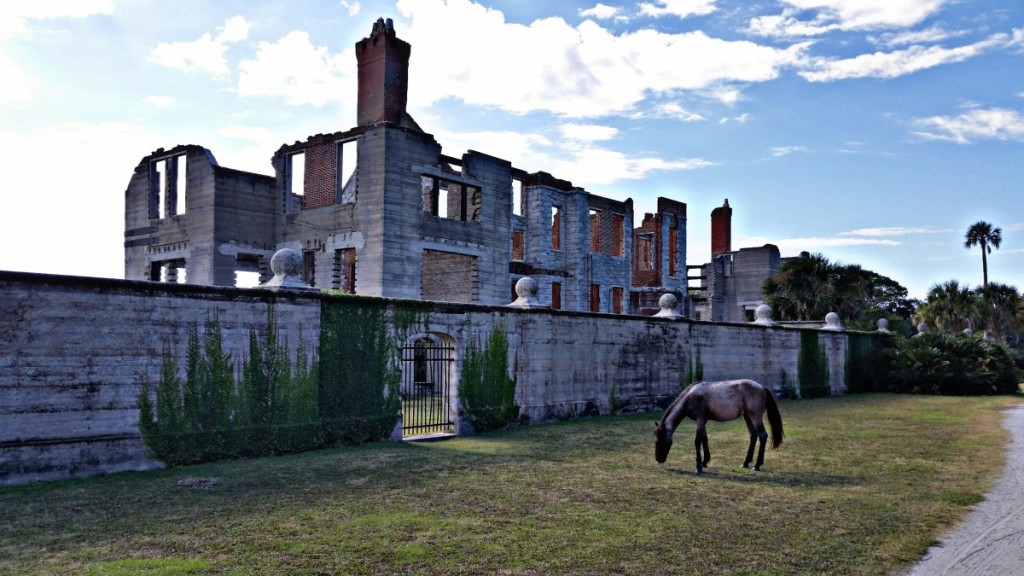 Where is Cumberland Island, Georgia?
Cumberland Island is the largest barrier island of the Sea Islands of Georgia. It is located on the southeast side of the United States in the Atlantic Ocean. Roughly 37 miles from Jacksonville, Florida; 112 miles from Savanna, Georgia, and 211 miles from Charleston, Georgia.
It is roughly the size of Manhattan at 17.5 miles long and covers about 36,415 total acres.
The History: Cumberland Island Then
These barrier islands were once THE place to be for wealthy aristocrats in the Gilded Age.
The who's who of the late 1800's included the Carnegies, Vanderbilts, Rockefellers, Goodyears, Pulitzers and Astors. Cumberland provided a secluded hideaway for the social elite to vacation and throw extravagant parties. The remnants of power and grandeur are still scattered about the island.
Visit Cumberland Island Now
A majority of the island has become Cumberland Island National Seashore, administered by the National Park Service. The island possesses three ecosystems, including beaches, marshes, and forests.
Wild animals such as turkeys, rabbits, horses, hogs, deer, and horses roam the area. There are over 50 miles of trails and roads as well as 18 miles of beach. There is only a single inn on the island and a primitive campground.



Everything You Need to Know about a Visit to Cumberland Island
I first read about the group of islands, also called the Golden Isles, in 1,000 Places to See Before You Die. I don't think it's necessarily the ultimate guide for a traveler's bucket list – there are a few states and countries that didn't even make it in the book which I think are worth visiting – but I do think it's a great place to start.
Once we plan a trip, I flip through the pages to see if there's anything we haven't heard or read about in the area. I have been enlightened on unfamiliar destinations a few times including this group of fascinating islands.
Last year we took a road trip from Florida to the surrounding areas of Savannah. Once I read about the Golden Isles, we added a few of them to our itinerary including St. Simons, Sea Island and Jekyll Island. We did not have time for Cumberland Island as it is the furthest south and the most difficult to get to. They were GORGEOUS. Each one so unique and brilliant.
Since we missed it last year, I was sure to fit it in on our two month road trip this year. On our drive from Myrtle Beach to Lauderdale-by-the-Sea, we planned a one night stop in Jacksonville at the Holiday Inn Express Jacksonville Airport. In the morning we drove to St. Marys, the gateway to the island, and boarded a ferry at 9:00 a.m. from the visitors center.
Since we booked our reservations months in advance we were worried about the weather. Thankfully we lucked out in October with a dry and sunny day.
Biking on Cumberland Island
You cannot bring your own bikes on the ferry -huge disappointment- so we had to rent them once we arrived at the Sea Camp Dock for a fee of $16 per person. See below in the Know Before You Go section for tips on bike rental. We hoped to avoid the majority of the group from the boat by riding the 8 mile path to Plum Orchard Mansion first. We succeeded as we only saw three other people the entire ride and visit throughout the grounds.
*Update: The ferry now allows passenger bikes for $10 per bike, but space is limited to only 10 bikes per ferry so arrive early.*
For the most part the path is hard-packed, covered and fairly easy. We were overjoyed with seeing wild horses in an open meadow, but unfortunately this was the unshaded and difficult part of the path as well. Let's just say, dry sand plus biking does not equal easy.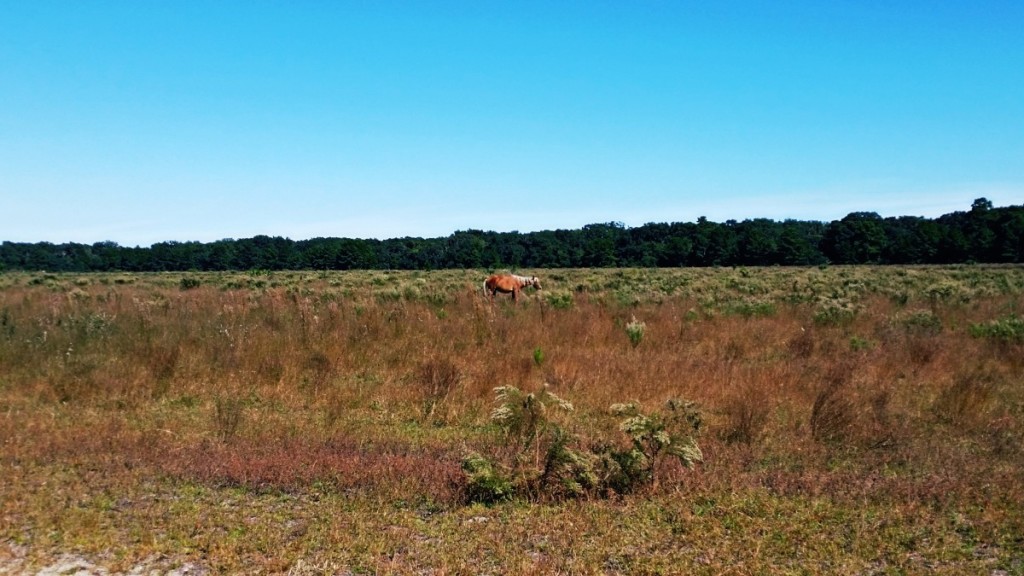 By the time we arrived back toward the rental spot I was ready to jump off the bike and switch it up a bit. We returned the bikes and walked to the southern section near the beach and Dungeness Ruins. We are so pleased that we were able to explore this ethereal sanctuary.
Cumberland Island is an American treasure. It's not often you find a stunning place, let alone an entire island that has not been overdeveloped and exploited.
How to Get to Cumberland Island
There are only a few options to get to Cumberland Island: private boat, kayak or ferry.
Docking is available to private boaters during daylight hours only – no overnight docking – on the north end of the Sea Camp and Dungeness docks.
It is on a first-come-first serve basis (no reservations). There is no fee for docking, but a small park entrance fee.
Kayaking to the island is an option for anyone as well as beginners, but the difficulty is considered physically challenging (moderate level) because of the length of the trip. It is a 12.3 mile trip one way to the island. Windy days can be especially challenging as there is little protection in the open ocean.
Guided tours and/or rentals:
Up the Creek Xpeditions

, 111 Osborne St., St. Marys, GA 912-882-0911

SouthEast Adventure Outfitters

, 313 Mallory St., St. Simons Island, GA 912-638-6732

Kayak Amelia

, 13030 Heckscher Dr., Jacksonville, FL, 904-251-0016
Continue to read below for tips on your visit.
Cumberland Island Ferry Information
Ferry reservations can be made up to six months in advance at 877-860-6787. The National Parks Service only allows 300 visitors a day so I would suggest to call and make your reservation as soon as you have the date you would like to visit.
If you do not reserve a ticket beforehand, you go on a waiting list and after everyone else is checked in they will let you know if there is room. We were there on a Saturday morning in October and a few people were able to buy tickets the day of.
Tickets are $28 plus tax for adults, $26 plus tax for seniors, and $18 plus tax for children 15 and under for the ferry only (make a note that the park also charges an entrance fee of $4.00 per person paid the day of not when reserved over the phone). We did not have to pay the additional fee since we had our annual pass* for military.
The ferry departs St Mary's at 9:00 a.m. and 11:45 a.m. and from Cumberland Island at 10:15 a.m. and 4:45 p.m. From March through September, there is also a 2:45 p.m. departure.
From March through November, the ferry runs seven days a week. And from December through February, the ferry runs five days a week, Thursday through Monday.
Arrive 30 minutes before departure. You have to pick up your ticket at the Visitors Center even if you reserve on the phone.
Visitors Center address is 113 St. Marys Street, St. Marys, Georgia.
Free parking is across the street from the St. Marys Waterfront Park.
*Current U.S. Military members and dependents in the Army, Navy, Air Force, Marines and Coast Guard (Reserve and Guard members) can obtain a FREE Annual Pass. Click here for more information.
Know Before You Go:
Parking for the ferry is free but limited so arrive early.
Before you arrive on the island ask the employees on the ferry about the trail conditions. No paved roads so heavy rains can cause difficult terrain for biking.
Bikes are first come, first serve which means when you get off the boat walk to the side of the building on your left hand side and actually put your hand on a bike seat. They will be locked up, the park employee will come over and unlock them and it's a free for all.
Bring exact change for the bike rental. They can get change but they won't get it for you until they answer all questions and get payment from everyone else which is time-consuming.
Check your bike seat, tires etc before picking that one. My first bike I chose had its tire rubbing against the frame so I switched it out.
Bring a backpack cooler or basket for the bike.
Bring bug spray, sunscreen, and/or a hat.
There are NO garbage cans on the island. Everything you bring must come back out with you.
There are NO places to eat. Bring your own food for the day – nothing too heavy because you will have to carry it around all day with you.
If you want to tour Plum Mansion plan accordingly. Free tours open only Thursday – Monday (times vary).
The entire day cost us $78 (note we did not have to pay park entrance fee).
Cumberland Island tops our list for unique American islands. What is your favorite island?
Like it? Pin it!