Romantic getaways are usually synonymous with the destination, like the secluded beaches of an island or a certain city with a romantic je ne sais quoi. But they don't have to be.
Here are nine simple ways to ignite the spark and rekindle the romance in any location.
Tips for a Romantic Getaway
1.  Start out on a romantic note. At the start of the trip, whether it is on the plane or when you first hop into the car, surprise your significant other with a sexy new gift. It can be for either one of you. Give them a certain something to look forward to. Some ideas include a blindfold, naughty game, racy underwear, sensual lingerie, massage oil, or lotion.
Tip: If you pick a liquid and you are flying, make sure it's under the restricted size. It might be a little embarrassing otherwise.
2.  Be patient with each other from the beginning. Usually the most stressful parts of a trip are the beginning and end, getting to and from your destination. Remember to be patient with each other during these times, because when an argument arises in the beginning of a trip, it's hard to recover. Remind yourself (and maybe even your partner) to take a deep breath and enjoy.
3.  Disconnect from the digital world. Nothing says romance like having your head buried in your phone while your significant other is trying to talk to you, right? Wrong! Put the phones, tablets and any other electronic devices down.
Tip: If you use your phone to take pictures and you cannot ignore texts and e-mails, turn your phone on airplane mode. You'll still be able to take pictures, but with no incoming messages to bother you.

4.  Slow down. Maintaining a fast pace and trying to see everything can take away from the little things. Appreciate your surroundings, the person you are with and the memories you are making. Slow down, relax and enjoy just being with each other. 

5.  Remember to hold hands. A simple gesture of holding hands is a powerful sign of affection. Have you ever argued while holding hands with someone? Probably not.
6.  Plan at least one romantic thing to do a day. Take a long walk on the beach, schedule a couples massage, dance under the stars, watch the sunset, or eat at a romantic restaurant.
Tip: Don't forget to check Groupon for any special deals in the area.
7.  Splurge a little. Bust open your wallet on anything that will help the trip go more smoothly. Grab an Uber versus taking public transportation. Book a higher end Bed and Breakfast versus a hotel. Add a VIP service to your stay. Plan something special, whatever you think your significant other will enjoy.
Tip: Use Ebates when booking any travel and/or shopping online. Click here for a free $10 credit!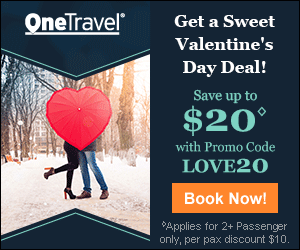 8.  Avoid crowds. Walking shoulder to shoulder with a stranger or waiting in line for an hour is a definite mood-killer. Avoid tourist traps and find a quiet place to share a private moment.

9.  Be present and in the moment. Life is hectic and sometimes it is hard to let go of the chaos enveloping us. Don't argue about things in the past and don't worry about what is happening in the future, savor the moment you are currently in. Be mindful of the present.
Don't forget to sign up below to be the first to know when a new post comes out so you can follow along on our adventures!
Do you have any other tips for a romantic getaway? Please share in the comments below!
Like it? Pin It!