CAMINO DE SANTIAGO DAY 24: MANSILLA DE LAS MULAS TO LEÓN
Truth be told, today is the first time I thought to myself, "What the hell was I thinking signing up for this?!" It didn't last long, but it crossed my mind.
I haven't had a good night of sleep for days, the albergue we stayed at last night was terrible (El Jardin if anyone is taking notes), I have a blister UNDER my pinky nail (how does that even
happen?) and I woke up with a flippin' cold!
Needless to say, I had a very crabby morning. On the bright side, we changed our plans to two nights instead of one in a private room. We also dodged a rain storm on our eleven mile hike today. We arrived in Leon and checked into our hotel right before it started.
For the first night we are staying at the Hotel Via Leon, a charming boutique hotel right in the heart of the historical district.
RELATED: THE ULTIMATE CAMINO PACKING LIST
We don't spend too much time exploring today since it's cold and raining. We are excited to see what the city has to offer. Tomorrow's weather is going to be better and the city looks interesting.
DAY 25: LEÔN
It's astounding what a difference one night of rest can make. It's time to find out what Leon is all about!
The first thing on our agenda is the magnificient Gothic cathedral. Santa Maria de Leon Cathedral was built in the 13th century and sits on the site of former Roman baths.
Because of its poor location and miscalculations during the build, the cathedral was in dire need of repairs. The cathedral underwent massive renovations that lasted about half a century.
The most impressive feature of the cathedral is its stained glass. It has three floors equaling 1,800 square meters of little pieces of ornamental glass in lead. Each were dismounted piece by piece and stored in boxes during the renovations. A huge undertaking, yet, it all went as planned and here we are now experiencing its splendor.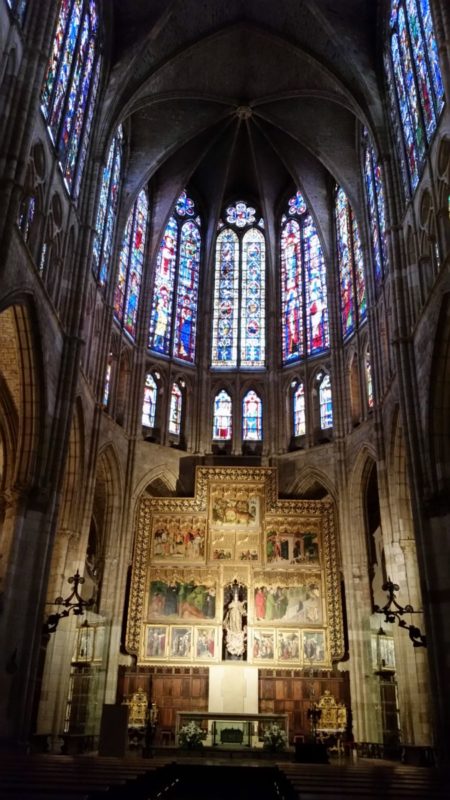 Even though it wasn't a warm day, we sat outside for lunch with a view of the cathedral.
We went inside a free museum which happened to have access to a short strip of the medieval wall.
Midday we checked into our next place for lodging, a hostel (Pension La Torre) near the Camino trail. We booked a private room with a bathroom and the hostel has a shared kitchen and small eating area. The ambience isn't as nice as the boutique hotel, but it is fine for what we need.
We spend the rest of the day wandering around. Leon is a beautiful city with winding streets, cultural sights, and historical significance.