99 shots of shine in my hand, 99 shots of shine, pour one down and turn it around, 98 shots of shine in my hand… and so my new song goes.
We found the best and worst thing to do for adults all rolled into one activity in downtown Gatlinburg. The best because we had a blast, the worst because it didn't end well!
The greatest thing about this said activity is that IT IS FREE!
We have been to Smoky Mountain National Park one other time before this latest trip, and up until the last day there we never really spent any time in downtown Gatlinburg. Some people come to the Smokies only to visit this area, but we like nature and hate traffic jams so we have tried to avoid it in the past.
We expected it to be overflowing with people, cheesy shops, overrated restaurants, and touristy attractions. So why did we spend the day down there? Because it is still a new place to explore and we discovered moonshine and whiskey tastings!
Mighty Moonshine
Illegal moonshine has been distilled in the backcountry of the Appalachians since the early 1800s. It wasn't until the recent recession that the state of Tennessee reevaluted the possibilities of the illicit alcohol. In order to increase employment and generate tax revenue, the state legalized the production of distilled spirits in 2009. That is how we now have mighty moonshine available for purchase in downtown Gatlinburg.
My first introduction to moonshine, even though I didn't really know it at the time, was the always intoxicated Granny from the American TV show, Beverly Hillbillies. Remember she'd walk around with a jug that had three x's on it? Apparently that signified the shine has been distilled three times making it almost pure alcohol. All I knew was that she was the gun-toting, inebriated grandma and I thought she was hilarious!
Moonshine has many names such as white lightning, mountain dew, jet fuel, hooch, homebrew, hillbilly pop, and white whiskey. My favorite and what I think is the most accurate being Tennessee tranquilizer. Since I was as serene and content as they come, I'd say the nickname is fairly accurate.
Ole Smoky Tennessee Moonshine
We didn't plan our day to be encompassed by distilleries, it just sort of happened by chance. We were dropped off near the Ole Smoky entrance. We heard live music and saw a sign that said free tastings so we figured why not adventure in!
Ole Smoky is the first federally licensed distillery in the history of East Tennessee. When it opened in 2010, it was one of only four distilleries in the state, sharing accolades with the likes of Jack Daniels, George Dickel, and Benjamin Prichard.
A member of a bluegrass band jammed on banjo strings while we cheerfully sipped on small cups of moonshine. The hot item of the day was their seasonal pumpkin moonshine which was one of my favorites along with apple pie and peach. I think the sip of 100 proof White Lightnin' is what got our party started!
Sugarlands Distilling Company
Sugarlands Shine ~ "Stories in Every Jar." There's a story in every jar all right! It's a short story and it goes something like this. A young girl adventures out for the day without a clue of what craziness lies ahead. Early on in the day she thinks to herself,
"What could a thimble-full of moonshine really do?"
After a short period of pondering, she declares, "I'll try them all!" Midday our adventurous girl turns to all-loving girl who is singing, chatting up anyone she could and having the time of her life! End of day she is stumbling around, falling asleep on bar stools and toilets. Fast forward to the next morning and said girl thinks she might die of either embarrassment or the worst hangover of all time, yet it was all worth it!
Sugarlands Distilling Company was our favorite stop. Tadpole was our bartender and he was fabulous! If you were to only try one place, make sure it's this one. They set up the group in a semicircle with a pourer in the middle. Nine moonshines are poured all the while listening to the humorous antics of the man in the middle. Our favorites were lemonade and sweet tea.
Davy Crocketts Tennessee
Oh Davy Crocketts… I typically don't enjoy whiskey, but man oh man was this stuff tasty! They smooth the whiskey flavor by dripping it through sugar maple charcoal.
They are not limited to pure or blended whiskey, they offer Salty Caramel, Cinnamon, Southern Pecan and Chocolate Whiskeys. Steve also mixed and matched different whiskeys to make some tasty treats.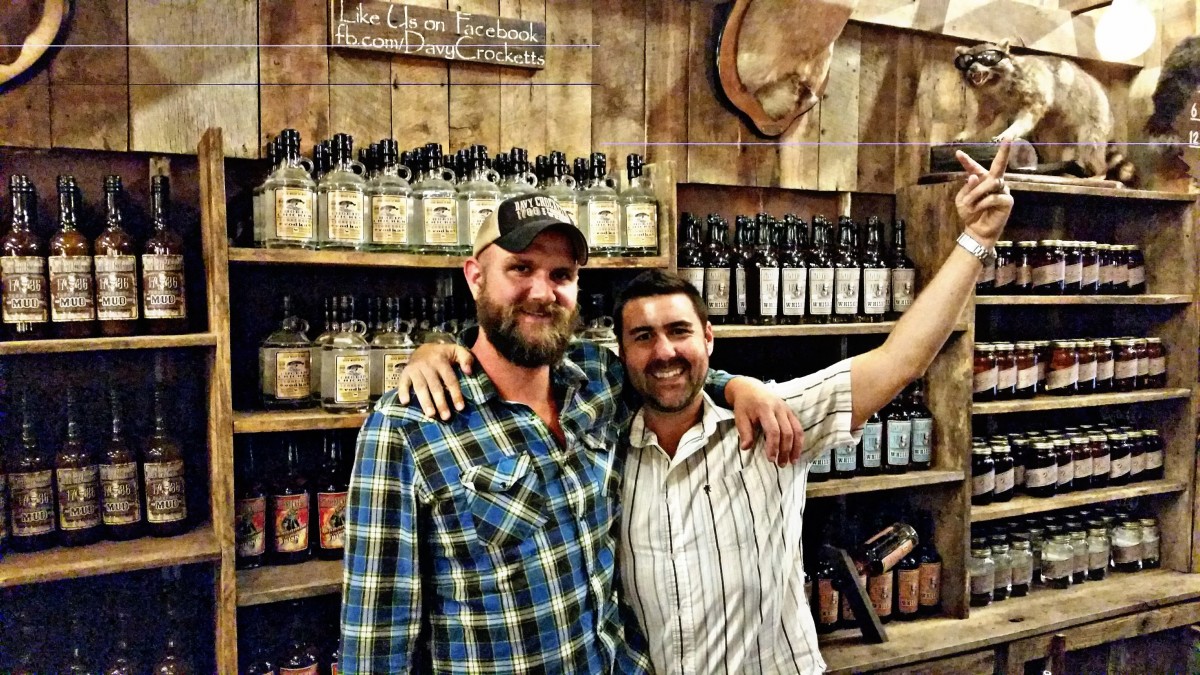 Despite being a tourist trap and the day ending with me stumbling around, we had an enjoyable experience sampling our way through Gatlinburg. We also managed to meet some great people along the way.
Tips to Not End Up A Stumbling Fool Like Me in Gatlinburg
Drink responsibly.
Eat first! Start out with a full belly.
Watch how many shots you take, that moonshine sneaks up on you!
Take a break – shop, eat or just walk.
If you are going to buy anything, wait till the end of the day so you don't have to carry it around with you all day.
What's your favorite thing to do in Gatlinburg?
Like it? Pin it!