Today, we explored the oldest and hottest geothermal area in northwest Yellowstone National Park and had our first grizzly and black bear sightings!

Mammoth Hot Springs
Mammoth Hot Springs is a congested area so we shot right there when we woke up for some more geyser gazing. One section of the drive was different than we'd seen in the park. It had giant boulders on each side of the road which was fun to drive through.
The Mammoth Hot Springs are huge, but only a section has flowing water right now. It is an ever-changing dynamic. When my husband saw it as a teenager, he said it looked a lot different.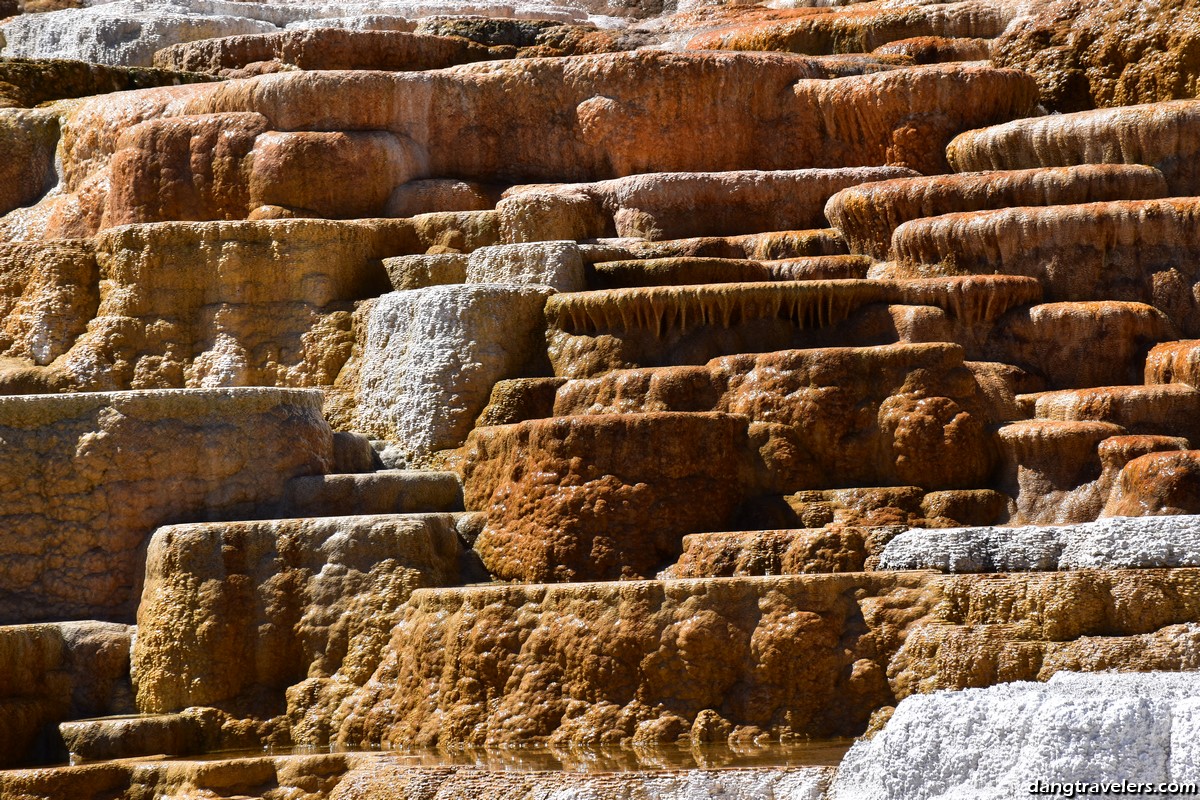 If you are looking for a sure thing for animal watching, just hang around the Mammoth Springs area. The elk are a common sight walking along the street and laying in the shaded spots. We walked in between the buildings of the fort and saw about ten of them lying on the grass in one of the yards.
Our First Black Bear Sighting
On the drive back south to the Norris Geyser Basin, we noticed cars pulling over so we stopped to see what was going on. There was a black bear eating her way down the road and a cub hanging out in a tree!
We couldn't get a good picture of the cub as it was in the shade and on the other side of the tree, only popping her head out every once in a while. But the mama was a little too close for comfort. Yay, our first bear sighting!! And it wasn't while hiking so that makes me happy.
Norris Geyser Basin
Norris Geyser Basin is home to the world's tallest active geyser, Steamboat. Its eruptions are sporadic and hasn't had a major one since September 2014. We crossed our fingers, but to no avail. We just saw it spit up a few times though.
The valley has some of the oldest and hottest pools in the park with temperatures above 200 degrees. When I was doing research for our trip a few weeks ago, I read about a young man in his 20's who ventured off the boardwalk platform just this June and fell to his death in one of the thermal areas. We found ourselves in that spot today and a few other people were standing around talking about how far off he must have went. It is unfortunate that people do not take the warnings seriously.

Our First Grizzly Bear Sighting
So not only did we see a black bear today, we saw a grizzly and her cub! We drove up to the Lake Butte Overlook before heading back to our campground for the night. We were planning on walking a bit on the trail, but were stopped right in the beginning by a handful of people looking down the mountain. We used the zoom on the camera and our binoculars to watch them forage for food for quite some time.
It is amazing seeing wildlife in their natural habitat, but a bit eerie when that habitat is our hiking grounds as well. What a great end to the day. See below for more tips on visiting Yellowstone National Park.
Tips for Visiting Yellowstone
Get up and out early if you want to get a parking spot. The busiest time in the park is between 10 am – 6 pm.
Wear layers. It's cold in the morning and then warms up in the afternoon.
Wear sunscreen every day even if it's cloudy – intense UV rays.
Free Wi-Fi at Albright Visitor Center in Mammoth Hot Springs.
Be careful yourself and watch your children on the boardwalks. I cannot stress this enough. I saw many children running and messing around near some of the hottest thermal pools around which would disintegrate them if they fell in. Just recently a young guy adventured off the boardwalk and died yet for some reason most people don't take it seriously.
Invest in bear spray. You can buy it online if you are driving into the park or buy it at a local Walmart if you are flying in. Bear spray is not allowed in luggage even if it is checked. We bought ours at Walmart and just a little reminder that they price match Amazon so we got ours for $6 cheaper than Walmart was selling for.
And so our epic 80 day summer road trip continues – 13 U.S. states, 2 Canadian provinces, and 13 national parks. You can also follow our journeys via Facebook, Twitter or Instagram.
Miles Driven Today: 198, Total Miles Driven: 3,207, Average Gas Price per Gallon: $2.60
If you would like to see our full itinerary, start at the beginning here. And Start at Day One here.
Next: Camping in Yellowstone National Park

Like it? Pin it!