The year was 2009. The destination was Lincoln Park Zoo in downtown Chicago. We had a nice little plan; we were taking my little sister and a friend's son on a well thought out bike outing from Navy Pier to Lincoln Park Zoo.
We woke up in the morning, refreshed and excited to pick up the kids and get the day started. The sun was shining and it was a perfect day for a bike ride. Before we hopped in the car, I remembered I didn't grab the mail on my way in from work the night before.

I had no idea the absolute heart-thumping experience that lay before me as I opened my mailbox. In it, I discovered one lone envelope. The envelope that would set the tone for the entire rest of the day. The envelope that would be the start to many conversations. The envelope that would be number one in our list of terrible things that happened that day.

I slowly opened this official looking envelope, only to see it was a speeding ticket. Not just any speeding ticket: a $650 speeding-in-a-work-zone ticket! I started to sweat. So many thoughts were flowing – Dave is going to kill me. How could I do this? $650? That could pay for a short vacation!

I remembered I wasn't alone; he was around here somewhere loading the car or the bikes. I almost shoved it in my purse thinking I would just bring it up later when we got home, but something caught my eye. A picture? How weird, they caught me red-handed doing my dirty deed? And that's when it happened. I cannot fully explain the joy that rushed over me.
Pure excitement erupted and tears of happiness formed in the corner of my eyes: it wasn't me! Thank the heavens, it wasn't me. It was my all-knowing, always-right husband!

I was a little taken aback so I'm not sure at that point whether he came up and noticed what I was looking at or if I was just so excited I yelled it out for everyone to hear. Either way, the cat was let out of the bag and the day was starting out on a sour note.

Bike Riding Bliss in Chicago
As we coasted down the well maintained Lakefront Trail, along rolling waves and sandy beaches, our troubles melted away with the wind. Ticket? What ticket?

Our bikes were a joy to ride. We had recently tricked them out to our liking: mirrors, comfy seats, odometer, bottle holders, pannier, and even little bells to let people know we were behind them. Life was good.
We parked our bikes in front of Lincoln Park Zoo and adventured on in. We had an amazing day; the temperature was perfect and the animals were all out putting on a show. The kids were getting hungry so it was time to bike back over to Navy Pier.
When we first popped out of the zoo, I didn't see our bikes and made a joke that they weren't there just to get Dave going. But as we approached the bike rack, I realized they really weren't there! We couldn't believe it.

We looked around in utter disbelief, feeling violated and dumbfounded. It was broad daylight. We were right in front of the zoo, where people are walking and running. How could this happen? I ran inside to the front desk to report our stolen bikes. The first two questions the woman asked were if we had u-locks and whether or not our bikes were registered. Uh, no and no. She did not seem sympathetic at all. Why wasn't she calling security? The National Guard? Anyone that would help. It seemed as though it was an everyday occurrence and that we were the ones at fault. Since there was nothing for us to do, we began our long trek back to Navy Pier.

Kids are Oblivious
The ride to the zoo was so quick and fun, the cool breeze on our face made it seem like a perfect day. The walk back, on the other hand, was long and torturous. Hot and stagnant. Is it possible Mother Nature was projecting our tone? We were stewing in the thought we had just received a $650 speeding ticket and then had our shiny perfect bikes stolen. What a day.

As we continued on our pilgrimage back, deep in thought, the kids began to circle us on their bikes (did I mention the scandalous thieves didn't take their bikes?) asking questions like: Why were we walking so slowly? What are we going to eat ? Can we ride the swings when we get to Navy Pier?

This is the moment I realized kids really are oblivious to everything! Dave and I were sweaty, unhappy and exhausted and these kids had no clue. Children… know your audience!

Terrible Things DO happen in Threes
After what felt like a trek of a lifetime (even though it was only 2 miles), we finally arrived at Navy Pier. The day wasn't a complete mess, we still had a good meal and fireworks to look forward to. As we were waiting for our food and chattering away about the events of the day, a gray-colored splash appeared on Dave's shoulder. All at once we all realized what it was.

I wish I was a great writer just so I could fully articulate the look on his face in this moment of outright defeat. His eyes were puzzled, then his jaw clenched and his stare turned to disgust, and the final twist was to plain and utter sadness. His realization that he was just pooped on was one I could not handle. My eyes swelled up with tears, as I tried my hardest to hold in the laughter. I just couldn't do it. Poop, really? He was pooped on!
After getting a stupid speeding ticket, getting our bikes stolen pretty much right in front of us and then to get, literally, s**t on was hysterical to me at that moment. I burst into a crazy fit of laughter with tears streaming down my face. The kids didn't know whether to laugh, run or both. Dave just stared at us, which made us laugh harder! Finally, after a few seconds and having the shock wear off, Dave joined us. We were all laughing so hard, I think the waitress thought we lost our minds.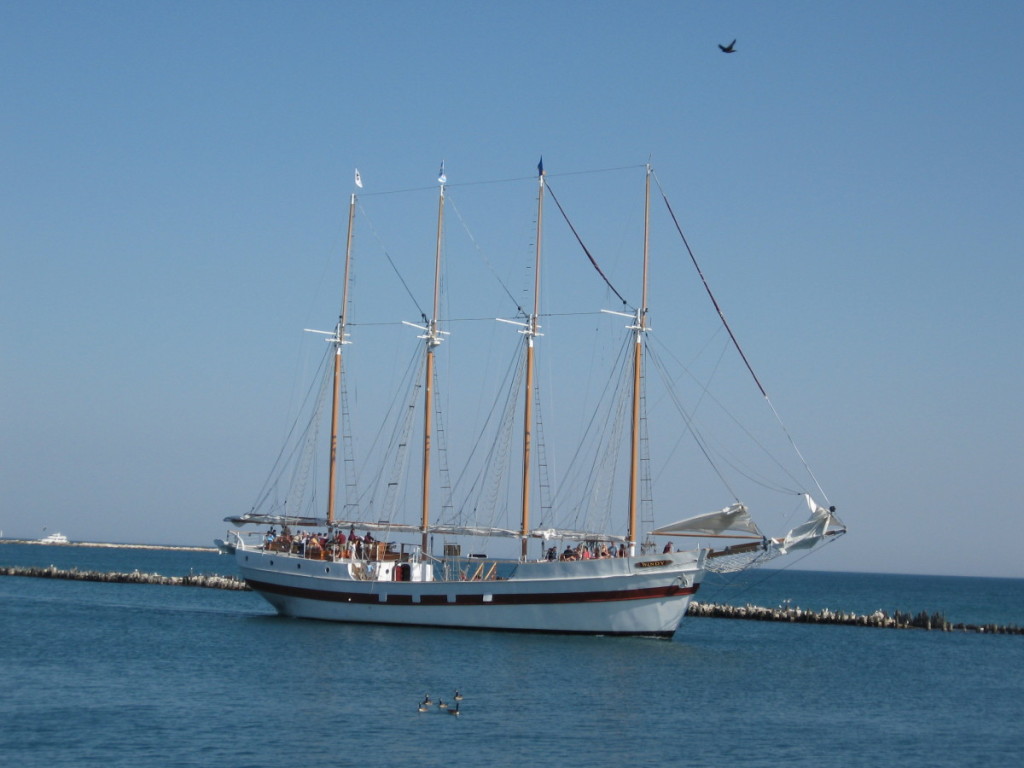 Lessons Learned on a Day in Chicago
The kids will have the memory of an awesome day downtown, of course, completely oblivious to the horrible things that happened. We were safe, no one was hurt, and we learned a few vital things.

Life lessons learned that day:
Never speed in work zones even when workers are not preset.
Write down the serial number of your bike.
Invest in a good U-Lock.
Always be aware of your surroundings when eating outside.
Every experience, good or bad, is still an experience.
Sometimes in life there are days that suck, but just remember years later it may make a really great story!
Side Note: We are from the Southside of Chicago and love the city. The city, in general, is safe to explore around. We just happen to be novice & trustworthy bikers at the time and hadn't invested in a sturdy lock.
Have you had any travel experiences that taught you an essential life lesson?