We visited Kenosha, Wisconsin recently and during our breaks from wandering around the museums, riding the streetcar and walking the lakefront we had the chance to eat at a few unique restaurants. One of our favorite parts of exploring new areas are trying different dining experiences, but usually we are alone and not worried whether or not they are family-friendly. We had our two nephews with us this trip and were happy that all the restaurants we dined at were accommodating.
Our Kenosha dining experience led us to find that chicken and donuts really do go together, beer nuggets are not for adults only and the best sandwich my nephew has ever had is in a bakery downtown.
Mike's Donuts & Chicken – A Perfect Pairing
We stopped in Mike's Donuts and Chicken (UPDATE: Mike's Donuts has unfortunately closed since our visit) for lunch and we found out donuts and chicken DO go together. And so does chicken and whiskey and donuts and craft beer! Well sort of. None of us ordered the chicken and donut meal, we ordered our meals (burgers and chicken) then donuts afterward. We had a local craft beer, but no whiskey. We saw the bartender climb up the ladder a few times to grab whiskey from the enormous wall of Jameson. Maybe next time when we stop in for an adult's trip we will be able to sample a little more.
The kids thought it was so cool that we could order our lunch then pick out a donut for dessert. If you go, try the maple praline bacon long john and let us know how it is! We tried to buy them twice, but they were sold out each time.
The donut side is open every day at 7am for breakfast and is open throughout the day with the second run prepared at 5pm (Friday – Sunday).
The bar side is open for lunch and dinner serving donuts, milkshakes, chicken, hamburgers, soup, salad and other sandwiches. We had chicken sandwiches, burgers and the onion strings for an appetizer. All of which were great pub food. My only suggestion if you eat at Mike's with kids is to use the bathroom on the donut side. Even though I personally enjoyed gawking at the hot men (and my husband at the sexy ladies in the men's bathroom), I didn't really want to have any awkward conversations with my nephews!
Kaiser's Pizza & Pub – Beer Nuggets to Die For
We ate at Kaiser's Pizza & Pub (510 57th St) for an early dinner and it was the perfect spot to unwind after a busy day. The kids were getting a bit loud at one point, but it didn't matter because there were other families and sports on the televisions to drown them out. The beer nuggets were recommended to us so of course we ordered them. SO GOOD!
The menu is large with typical pub fare and a big children's menu. We ordered the "world famous" thin crust pizza that comes with Wisconsin cheese. It was tasty and everyone enjoyed it.
Linnea Bakery – The Best Sandwich my Nephew has Ever Had
UPDATE 2017: Linnea Bakery has permanently closed.
When we first looked at the Scandinavian inspired menu at Linnea Bakery (512 56th St.), I was a little nervous we wouldn't find anything for the boys. Little did I know, it would be the place where my nephew would proclaim to have the best sandwich he has ever eaten!
Linnea's is open for breakfast and lunch, Tuesday – Saturday. We stopped in for lunch and were excited to see that we could "build our own" sandwich for the boys. And so the best sandwich was born! He thought the Swedish Rye bread was delicious. He made me take this picture to send to his dad so he would know how to make it!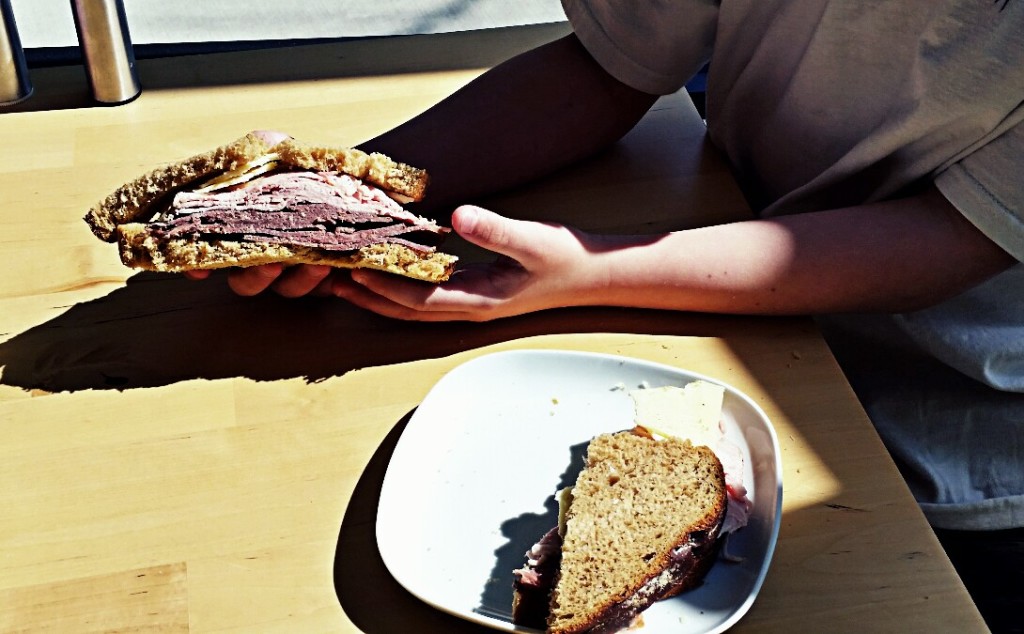 Here are a few other restaurants that were recommended to us, but we didn't get a chance to try:
Trolley Dogs, 5501 6th Avenue – known for the Trolley Dog, a hot dog & tamale on the same bun.
Choo Choo Charlie's, 5414 13th Avenue – A train delivers the food.
Frank's Diner, 508 58th Street, known for breakfast and has been on Diners, Drive-Ins and Dives and Chicago's Best Diner.
Tenuta's Delicatessen, 3203 52nd Street, an Italian market known for cannolis and Italian food.
Scoops Ice Cream & Candy, 5819 6th Avenue – I scream, you scream, we all scream for ice cream.
If you are looking for things to do in Kenosha see our post Kenosha, Wisconsin: Small Town, Big Heart.
Lodging

Best Location: Best Western Harborside Inn & Kenosha Conference Center, 5125 6th Ave, Kenosha, WI, (262) 658-3281
Best Deal: Comfort Inn & Suites, 7206 122nd Ave, Kenosha, WI, (262) 857-3450
As always, we recommend you book through Hotels.com to utilize the rewards program and Best Rate Guarantee.
Thank you Kenosha Area CVB and its associates for hosting us in the city. All words and opinions, however, are my own.
Do you have a favorite Kenosha dining establishment? If so, tell us below in the comments.
Like it? Pin it!