I had the pleasure of joining Roseville's Visitors Association for a Familiarization (FAM) Tour in the Twin Cities this summer. A FAM trip is a tool used in the tourism industry to familiarize others about a place in the travel world. It is an organized trip to allow us, the travel professionals, to get acquainted with their region. The ultimate goal is for us to share with you, our readers, what these areas have to offer.
I was looking forward to this trip for a few reasons :
To get to know what the Twin Cities has to offer. Having spent little time in the state, I couldn't wait to be introduced to the area.
To network; travel blogging allows me to meet many extraordinary people but unfortunately it's usually online-only friendships. I was excited to meet some fellow travel bloggers and local business owners from the Midwest.
It's an excuse for a much-needed girls trip! My friend Lori and I ditched the husbands and took off Thelma and Louise-style. Well except for the murder, running from police and – spoiler alert – driving off a cliff at the end.
So what did we get into on our girlfriend getaway in Minnesota?
Checking in at Roseville's Perfectly Positioned Courtyard by Marriott
After a six hour drive from the Chicago suburbs, we couldn't wait to check in at the Courtyard by Marriott Roseville. The staff warmly welcomed us to the hotel and chatted us up about the agenda for the weekend. We even received a few must-see and eat recommendations for the Minnesota State Fair.
We only had an hour before our first outing so we quickly took a look around and were impressed with what we saw. The Courtyard in Roseville is conveniently located between St. Paul and Minneapolis, a perfectly positioned location for seeing everything St. Paul and Minneapolis has to offer.
Cooking Challenge at THAT Cooking School
Our weekend in the Twin Cities officially began with an outing at the family-run establishment, THAT Cooking School. THAT stands for Teaching, Heart, And Team building and THAT's exactly what we experienced. Chef William Niemer, along with his wife and son, opened their doors and hearts to us.
First, we began the evening with a sampling of Minnesota-inspired appetizers: Lefse, SPAM, and Lutefisk. We had a few Minnesotans at our table so they really set the scene for the unique items we were about to try. It was amusing to hear about the culture and to taste test but I have to admit, the lefse is the only one I would eat again. It is a potato-based flatbread rolled up and sprinkled with sugar and cinnamon, sort of like a sweet Scandinavian tortilla. I may even look up a recipe for this delicious soft treat!
The SPAM experience, however, will go down as the first and last time I will be eating SPAM! The pineapple couldn't disguise the – I can't even find a word to describe – taste. And although the lutefisk, a gelatinous fish goo (yes you read that right), sounded absolutely disgusting, wasn't too revolting. Chef Niemer pointed out, while chuckling a little, that even though he expected us to try the local dishes it is an acquired taste and not to forget pizza was on the table as well. It was a fantastic way to break the ice within our group and get us acquainted.
After appetizers we received our cooking challenge: each team would receive a dinner theme mystery box with one protein, starch, and vegetable. The challenge being to produce a meal, a backstory and a decorative dinner table all surrounding the theme. Once we received our instructions, it was on!
What better way to get to know each other than to pit us against each other with a cooking challenge?
For our Fisherman Lodge theme, we made blackened walleye with a spicy roasted corn and wild rice side dish. There was a lot of running around, chopping, spilling, laughing and patting each other on the back. At the end of the night, all of our dishes and presentations were judged while we chowed down on each other's creations.
Even though our team didn't win (should have demanded a retaste), it was a perfect start to the weekend at THAT Cooking School.
Where: THAT Cooking School, 805 Sibley Memorial Highway, St. Paul

A Behind-the-Scenes Visit at Como Zoo
For over 100 years, Como Zoo has been providing visitors with family-friendly entertainment. It is one of Minnesota's most visited cultural attractions and we were able to take a behind the scenes look.
The zoo began with a few white-tailed deer in the late 1800s and is now home to a wide array of plants and animals from around the world. It is open 365 days a year and is free with an encouragement of a small donation.
After learning about the zoo's interesting past, we were able to make treats for two of their popular residents. Twin brother polar bears, Neil and Buzz, named after the astronauts were about to get some fancy treats! Some of the snacks had fruits and vegetables while others had marshmallows and fruit roll-ups. After putting everything together, we went down to watch the animals tear open the bags and lick the plates clean! It's an interactive and educational approach to get the kids and adults alike excited for the rendezvous with the bears.
Next, we had an even more personal meet and greet with a few of the giraffes. We fed the friendly giants some romaine lettuce and we giggled the whole time. Not only do they have long necks, but their tongues can grow up to 18-inches long. Yep, crossed that off my bucket list!
What an amazing experience at #comozoo feeding the #giraffe Look at that tongue, it can grow up to 18 inches long! @ComoZooConservatory #MyMMC #VisitRosevilleMN #OnlyinMN #mnstatefairbound

From gorillas to penguins and a bit of variety in between, Como Zoo seems to have a little something for everyone. I hope to get back and explore the gardens and conservatory as well.
Where: Como Zoo and Conservatory, 1225 Estabrook Drive, St. Paul

Whimsical Experience at Can Can Wonderland
One of the reasons we enjoy visiting breweries is that they are usually in a repurposed warehouse of some sort. Founders typically turn an otherwise abandoned building into a thriving local business. That's the feel I got when I stepped into Can Can Wonderland. Come to find out, the building, dating back to 1889, was home to the American Can Company. Except it is not just any repurposed factory, a group of talented artists whipped out their creative minds and made this place a one-of-a-kind wacky experience.
We are talking the strangest, yet most creative mini-golf course I've ever played. Some of the hole themes were the state fair, natural disaster, hot tub time machine, and Gramma's living room. And let's not forget the hole that was set up like tee ball batting practice, except I was hitting a golf ball instead of a baseball. The wonderland also has vintage arcade games, a soda fountain with spiked ice cream floats and a cocktail lounge with a long list of signature drinks.
We had a fun afternoon wondering what was around every corner while making our way through Can Can.
Where: Can Can Wonderland, 755 Prior Avenue North, St. Paul

Stroll in the Walker Art Sculpture Garden
The afternoon break was spent in the heart of Minneapolis, wandering around the Walker Art Sculpture Garden. It is home to a walking path and garden area with more than 40 outdoor sculptures.
I always see the iconic Spoonbridge and Cherry sculpture in pictures of Minneapolis but had no idea that water spouts out on both ends of the cherry and it weighs 7,000 pounds! I have an affinity towards sculpture parks, they combine innovative creations in an outdoor setting so I was thrilled we had a chance to stop by.
Where: Minneapolis Sculpture Garden, 726 Vineland Place, Minneapolis

Learning Something New at the Science Museum
Last but not least on our attraction agenda for the day was the Science Museum of Minnesota. The museum focuses on the interactive side of learning with topics such as mathematics, technology, natural history, anatomy, and physical science.
The Museum's Mission Statement: "Turn on the science: Inspire learning. Inform policy. Improve lives."
A few exhibits caught our attention over the others so we spent our time in those areas. We spotted "The Mummy" on our map so first things first we had to see what that was all about. We found Mr. Egyptian Mummy, which was given to the museum in 1925, over in the Human Body gallery. There were oohs and ahs coming from one section so we knew we were in the right place.
Authenticated on three separate occasions, Mr. Mummy is indeed a real mummy dated about 2,000 years ago, between 38 BCE and 85 CE. The unraveled half displays a man in his late 30s or early 40s with his toes, upper torso and head visible underneath the clear case. The museum has a mummy-designated employee hanging around to answer any questions and there were A LOT of questions!
The Dinosaurs and Fossils exhibit has one of the only four real Triceratops on display in the world and the largest complete specimen on display. So we certainly added that area to our must-see stops. Other resident exhibits we browsed through include the Experiment Gallery, the Mississippi River, Native American, RACE and Math Moves.
Another highlight of the museum for us was watching, Journey to the South Pacific, at the Omnitheater. The fascinating story unfolds on the 90-foot giant dome screen following a 13-year old young boy named Jawi Mayor from the islands of West Papua. The young islander heads out for an adventure to learn about the ocean and marine habitat on a 2-month long trip.
The underwater scenes, especially the one where Jawi swims with a whale shark – the world's largest fish – throws the viewers into the underwater world with him.
Narrated by Academy Award-winning actress Cate Blanchett, the film highlights the importance of living in balance with the vast ocean and how humankind can negatively affect marine life. It was enlightening to learn about a unique perspective in a world I don't know much about.
Where: Science Museum of Minnesota, 120 W. Kellogg Blvd, St. Paul

Nightcap at Bent Brewstillery
Before heading back to the hotel after a delicious dinner at Bonfire, we stopped off at Roseville's very own Bent Brewstillery for a nightcap. It is the first microbrewery-microdistillery in the state of Minnesota.
The facility itself is not that big so the tour was short, but the owner's enthusiasm and determination kept us entertained. I deemed him my hero as he left the shackles of the corporate world, previously working for NASA, to follow his dreams of being his own boss.
We sampled a handful of distilled spirits including an interesting Irish-Style Poitín that, even though it may have caused me to grow a few hairs on my chest, I thought was pretty smooth. Bent Brewstillery teamed up with The Anchor Fish & Chips local restaurant to create the moonshine masterpiece with leftover potato peels.
Next up on our agenda was the beer. Although I liked most of the beer I tried, I was surprised to find myself enjoying a sour beer. I have never found a sour I like but Bent's Tropricöt was fruity and rich yet not too tart.
Bent Brewstillery is top notch for the atmosphere, experience, and drinks.
RELATED: TWIN CITIES BEER LOVERS ITINERARY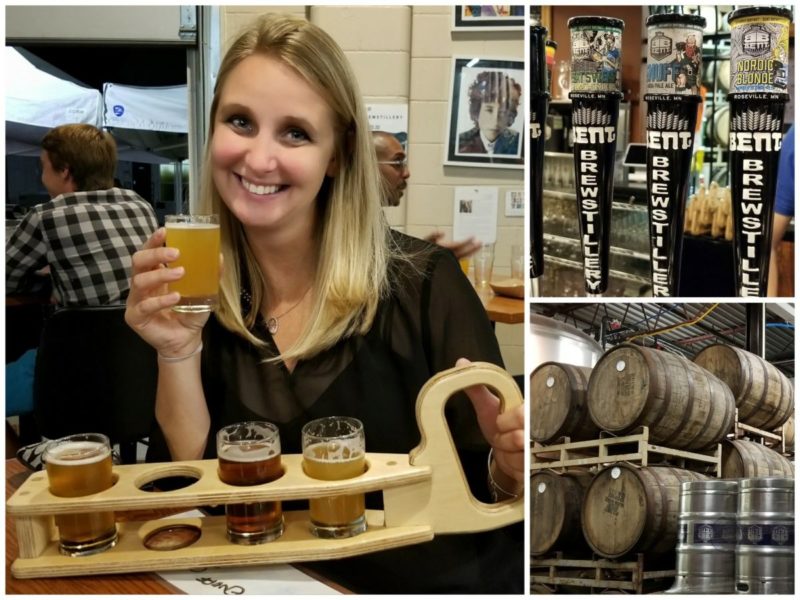 Where: Bent Brewstillery, 1744 Terrace Drive, Roseville

First Experience at the Minnesota State Fair
Saturday was designated as Fair Day! The rain did not slow us down for our FIRST visit to the Minnesota State Fair, the largest state fair in the United States by average daily attendance. But guess what it did do? Slow everyone else down! For being the highest attended fair in the country we didn't struggle with lines or feeling too congested, I think we were lucky the weather wasn't great.
We started with a visit to Sweet Martha's Cookie Jar, a family-run business that has been part of the fair since 1979. Then we walked and gawked, it was a fried-food paradise. The fair is well-known for having anything and everything on a stick, we even found a dog biscuit on a stick!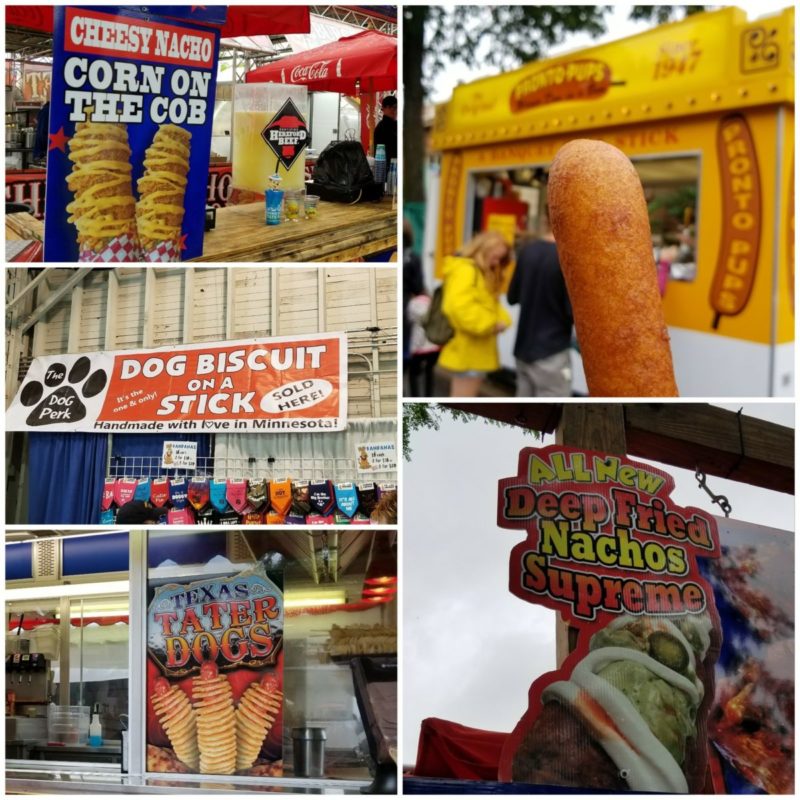 A favorite stop in the afternoon was at the Minnesota Wine Country building. We sampled wines from various local winemakers in cute Minnesota-shaped wine carriers and wine-inspired food. On the menu was deep-fried brie cheese, deep-fried kalettes (our healthy snack), Sriracha deep-fried cheese balls – I told you it is deep-fry heaven- and candied bacon donut sliders.
All in all it was a day filled with great music, tasty food, delightful wine and one-of-a-kind beer (did I mention we tried pickle beer AND like it), an excellent way to end our time in the Twin Cities.
Until next time Minnesota!
Where: Minnesota State Fair, 1265 Snelling Avenue, St. Paul
What would you like to do on a visit to Roseville?
Thank you Visit Roseville and its associates for hosting us in the city. As always, all words and opinions are my own.

Don't forget to sign up below to be the first to know when a new post comes out so you can follow along on our adventures!
Disclaimer: This post contains an affiliate link, if you book through our link we will receive a small commission at no additional cost to you. Thanks for your support as this helps with the cost of running the website.

Like it? Pin it!